The Windfall Elimination Provision (WEP)
NOTE: CPRS doesn't have a formal position on any specific legislative proposal regarding the WEP; however, since the employees and retirees of CPRS members are directly affected by this provision of the Social Security law, we will continue to monitor these issues and provide updates as appropriate..
The Windfall Elimination Provision (WEP) is a federal law that applies to individuals who receive a pension from a public-service job that is not covered by Social Security.  If the public pensioner also worked in a Social Security-covered job for at least 10 years, the WEP creates a public pension offset that can greatly reduce that person's Social Security benefit.
 The WEP was created by Congress in 1983 so that Social Security could distinguish between two types of workers: 1) those who earn pensions from primary jobs in non-covered employment, but whose low-wages or short work records in secondary jobs make them appear to be low-wage careerists to Social Security; and 2) workers who actually spent their entire work lives in low-wage jobs. 
 Congress felt the first group was unfairly benefiting from a Social Security formula that's designed to give low-wage workers an advantage. In order to give low-wage earners a decent Social Security benefit, the normal benefit formula is weighted so they get a higher replacement rate on their earnings than higher-wage workers receive. Low-wage workers receive nearly 60% of their previous earnings in Social Security retirement benefits; moderate-wage workers get about 42%; and high-wage workers get about 25%.
 Because the public employee's primary earnings aren't covered by Social Security, the benefit formula is applied only to wages earned on the secondary job. As a result, the normal benefit formula would treat the public employee as a lower-income worker and would calculate benefits to achieve a 60% replacement rate. This could occur even though the public employee's total lifetime earnings — including the earnings from a public-sector job — actually would be much higher than the earnings of someone who has earned low-wages in covered employment throughout their work life.
 For those public retirees who come under the WEP, there's a modified formula for determining the Social Security benefit. The WEP is described in a Fact Sheet provided by the Social Security Administration.
Social Security Administration Fact Sheet
Congressional Research Service – Social Security: Windfall Elimination Provision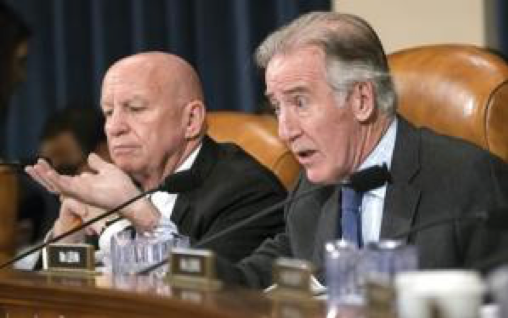 Kevin Brady (R-TX) and Richie Neal (D-MA)
Brady & Neal Seek Compromise With H.R. 6933
In September of 2018, new bipartisan legislation was introduced that would mark the first step toward resolving the unfairness of the Social Security Windfall Elimination Provision (WEP) since the law's creation in 1983.
The bill, H.R. 6933, is cosponsored by House Ways and Means Chairman Kevin Brady (R-TX) and Committee's Ranking Member Richard Neal (D-MA). Brady and Neal have a long and friendly relationship – they have been working to advance bipartisan WEP reform legislation for a few years.
H.R. 6933 was developed over the past two years, following the defeat of H.R. 711 in 2016. H.R. 6933 represents an effort at further compromise on the issue of WEP. The new bill is a first attempt to create a transition period for those public workers with many years of substantial earnings under Social Security.
Under the proposal contained within H.R. 6933, public retirees impacted by the WEP and eligible for Social Security before January 1, 2025 will receive a monthly rebate for a portion of the benefit lost to WEP. The rebate is currently proposed at a flat $100 a month ($1,200 a year) to be paid within the monthly Social Security benefit. It would begin January 1, 2020 and grow with inflation in perpetuity.
In order to be considered "eligible" for Social Security you must be at least 62 years old and have forty or more quarters (10 years) of covered service under Social Security. Whether or not a retiree chooses to collect Social Security is not a factor when determining eligibility.
For everyone first eligible to collect Social Security on or after January 1, 2025 a new proportional formula will be used to correctly calculate Social Security benefits based on time spent working under Social Security, vs. time spent working in non-covered service. Beginning in 2025, this new formula will apply to all future beneficiaries. 
UPDATE – H.R. 6933 failed to advance in the 115th Congress. As of January 2019, Congressman Richard Neal (D-MA) has assumed the chairmanship of the Ways & Means Committee and Congressman Kevin Brady (R-TX) now serves as the committee's Ranking Member. We expect them to continue their efforts to pass meaningful WEP reform during the 116th Congress.